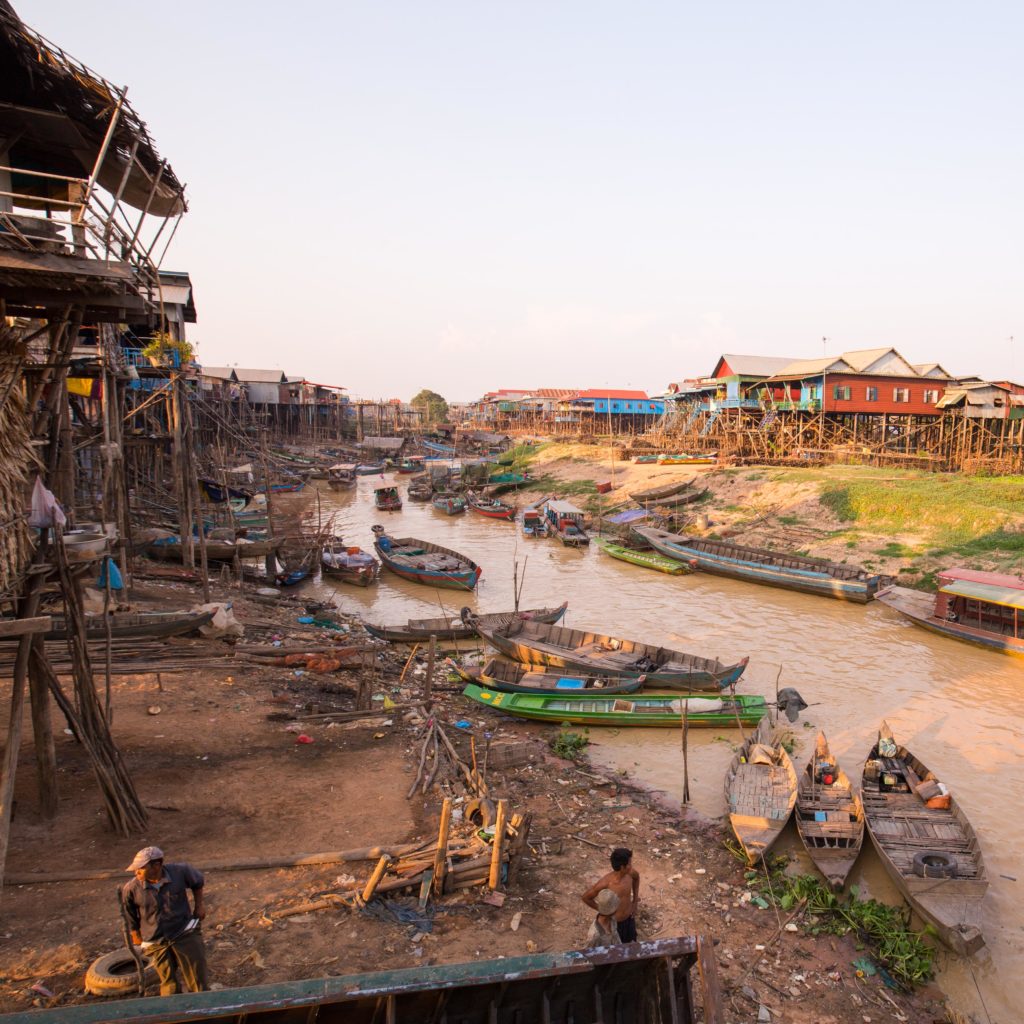 Kampong Pluk, floating village near Siem Reap, Cambodia
Kampong Pluk is one of four villages within traveling distance from Siem Reap on the shores of the Tonle Sap , the biggest natural lake in South East Asia. The others are Mechrey, one of our favorite places in Cambodia, the beautiful and biggest village of Kampong Kleang with it's abundance of local culture. The fourth is Chog Kneas which has sadly gained a reputation for its tourists scams.
Kampong Pluck is the little brother of Kampong Kleang, with it's stilted houses up to six meters tall. It's a more compact village but has the bonus of a sunken mangrove forest where locals queue for the opportunity to row a tourist in a small boat. If you haven't seen a floating village, it's well worth a visit. For the photographer, it's best at first light when the fishermen return with their catchers, or last light when the majority of tourists have gone home. There's a pagoda which is home to a few monks, adding to the photographic opportunities.
Our photography workshops prefer to visit the bigger village, Kampong Kleang, but the smaller Kampong Pluk is still a pleasurable trip, with vibrant colours at last light with a good dosage of Khmer cultural value adding to the experience. It is also closer to Siem Reap. The return journey after sunset can be done in good time. There is also a homestay option for those wanting the village to themselves for a touch of night photography.
To access the village,from Siem Reap travel east along R6 for around 16 kilometers. After passing Roules group of temples turn right. The tourist boats can be a further 14k depending on water levels. The village access is seasonal requiring a boat during high waters, September – January depending on rainfall. During low water the village is accessible by road which has significantly improved recently.
Sunset on the Tonle Sap, note on the last picture.
If you go here with a standard tour, this is what you will see, along with maybe one hundred other boats.  The Khmer will show you what they think you want to see.  It reminds me of the tour leaders taking big groups to the Angkor sunrise.  I feel quite uncomfortable with this.  On our photography tours we get you away from this.  We show you the real life, maybe a good spot for sunset away from the masses attending this lucrative circus.